How easy is it to find me on the web?
How can I increase hits on my name?
Are my various blogs, websites and favourites linked to each other?
What is a "personal brand"?
Consider these questions as you review the examples below. Try the quiz from the left menu: What Have You Learned? after you've spent some time with this section.
Allie Osmar publishes a blog on the transition from college into life in the big city, looking at how students can prepare for the ever-changing roles in communications, marketing and public relations. To make sure she is findable she invites other ways of connecting to her by posting her Twitter feed and publishing a feed to her blog. When she writes, she makes a point of linking to others (who will know she has done this and likely visit her blog) and responds to comments. She takes care of her networks by sharing what she knows in the content of her posts!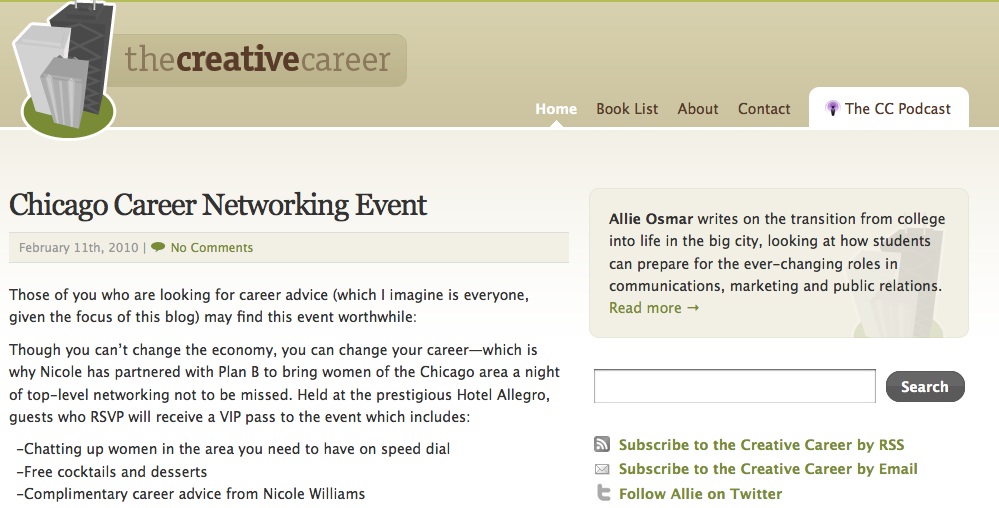 Creative Career Blog
A personal brand is in many ways synonymous with your identity or reputation. With the advent of social media and an increase in digital communications, this brand also exists online, and it is necessary to create and maintain an online reputation that genuinely reflects who you are and what you have to offer. Allie's personal brand showcases her core attributes and marketable skills, as well as her personal quirks and interests. She maintains her brand through several platforms, such as her e-blog and Twitter account.
Keeping in mind that employers search for candidates online, here are some tips to ensure that it's easy and quick to find you on the web. The key is to build your personal brand online so that potential employers find positive and professional information about you:
Update your profile (and privacy settings) on your existing social networking site or consider creating a profile on a professional networking site such as LinkedIn or Jobster. Companies use these websites to search for candidates who match their needs.
Consider developing an  e-portfolio – include your resume and showcase any impressive projects you've worked on. Websites such as Vizify and About.me are interactive, user friendly personal web hosting services that help you to create an e-portfolio with ease.
Create a thoughtful, well-written blog about your career goals or interests. Comment on recent news in the field. Post comments on others' blogs and use your full name.
Buy your own domain name if you can. Here's some advice to get you started.
Use your full name in the title, header and photo tags on any webpage you create to showcase your professional self (assuming you know HTML code).
Link to and from various pages within and outside your own website – this will increase your "page rank" (a system search engines use to decide which pages should come up first on a given search query).
Remember that the strategies and approaches you use to build and contribute to your online professional network, need to be right for you. Learn more about Professional Networking.
What have you learned in this section? Take the quiz: